Minister of Foreign Affairs and International Cooperation Certifies 13 Sierra Leonean Medical Doctors from Venezuela
MFAIC Press Office, July 12, 2018 – The Minister of Foreign Affairs and International Cooperation, in a ceremony held at the ministry's conference hall, Tower Hill, Freetown, presented degree certificates in medicine to thirteen Sierra Leoneans who completed their studies at the Bolivarian Medical University in the Bolivarian Republic of Venezuela.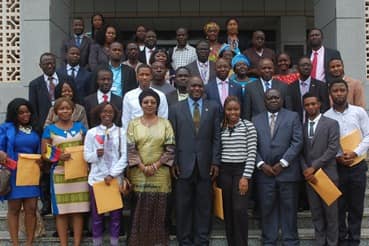 On behalf of His Excellency, Dr. Julius Maada Bio, the Hon. Minister Alie Kabba in his address congratulated the medical grandaunts, noting that they had proven under challenging times that if Sierra Leoneans get the opportunity, they can withstand all challenges and excel.
The New Direction agenda, he said, is committed to enhancing the human resource capital through education.
Hon. Minister Alie Kabba also expressed sincere gratitude to the Government of Venezuela for the offer of thirty scholarships to the Republic of Sierra Leone to capacitate Sierra Leoneans in various disciplines, including medicine, agriculture, and engineering. "It is our hope under the New Direction to rekindle relations between the two countries, strengthen and deepen engagements as well as collaboration on matters of mutual interests through bilateral consultations," he added.
"Many thanks to the parents and guardians for their support to their children and wards over the years, which has resulted in this laudable achievement; it is now your responsibility to put into practice what you have acquired and to serve as pioneers for quality health service delivery in this nation," Hon. Minister Alie Kabba concluded.
The Director-General of the Ministry of Foreign Affairs and International Cooperation delivered the welcome statement.   Foday Tejan Mansaray, one of the new doctors, gave the vote of thanks.  
The certification ceremony was witnessed by the Deputy Minister of Foreign Affairs and International Cooperation, Mrs. Nimatulai Bah-Chang, the Deputy Director General for Policy and Technical Cooperation, Dr. Michael Kargbo; Directors from the various divisions in the Ministry; and parents and other distinguished guests.
END
SIGNED
Emmanuel A.B. Turay