PRESIDENT BIO PAYS SURPRISED VISIT TO SLFA
His Excellency Rtd. Brigadier Julius Maada Bio today Tuesday the 17 July 2018 paid a surprise visit to the Sierra Leone Football Association (SLFA) Secretariat, purposely to witness Leones Stars' morning training session.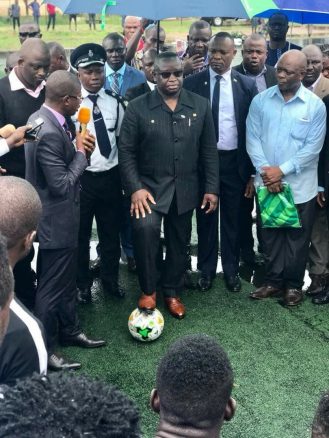 This historic visit was witnessed by the Minister of Sports Mr. Ibrahim Nyelenkeh and a host of other big personalities in the country's sports.
The president and his entourage were warmly received by the Executive and staff of SLFA headed by the Vice President 1, Mr. Brima Mazola Kamara since the President herself, Madam Isha Johansen is out of the country on an official duty.
In his keynote address, His Excellency encouraged the national team to work very hard and bring home good results out of the friendly match up against Liberia on Sunday the 22nd July 2018.
President Bio furthered that the Football family should try and put all their differences aside for the growth and development of the game.
A 25-man delegation is expected to travel to Liberian during the weekend to honor this friendly match which is in celebration of Liberia's 171st Independence Day.
His Excellency took off having had a very colorful and cheerful moment with the players leaving them in a very appreciative and joyful mood.
#TheDawnOfANewEra
#OneSaloneOneFootballFamily
©SLFA Media León Department
Please feel free to share