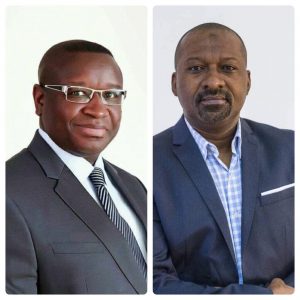 SLPP – FREETOWN,  January 10,  2017 – Pursuant to the provisions in Section 54(2) of the Constitution of Sierra Leone 1991 (Act No. 6 of 1991) and Clause 6(d) of the Sierra Leone People's Party (SLPP) 1995 (as amended) and in consonance with the Resolution of the National Executive Council (NEC) of the SLPP passed on the 2nd January 2018 in which the NEC unanimously resolved to devolve its powers of consultation on me as the Flag Bearer and Presidential Candidate of the SLPP to appoint my Running Mate and consequently my Vice-Presidential Candidate, I hereby designate Dr. Mohamed Juldeh Jalloh as the Candidate of the SLPP for the office of Vice-President of the Republic of Sierra Leone for the purposes of the Presidential Election scheduled to be held on the 7th March 2018.
Dr. Jalloh is a citizen of the State of Sierra Leone. He is 47 years of age and registered with the Party in 2002 and is currently a Distinguished Grand Chief Patron.
Until this appointment, Dr. Jalloh was an International Civil Servant having worked variously for the United Nations as a Senior Advisor in the United Nations Stabilization Mission in the Republic of Mali (MINUSMA) and before that as the Sahel Advisor to the Special Representative of the United Nations Secretary-General for West Africa and the Sahel. He also worked as the West African Analyst for the International Crisis Group (ICG) and with the Campaign for Good Governance in Sierra Leone to support Civil Society groups in reinforcing democracy in the country from 2004 to 2006.
Thus, Dr. Jalloh brings with him a wealth of experience and a proven track record spanning over 15 years in both national and international service. He is a graduate of Fourah Bay College, University of Sierra Leone, where he obtained a B.A degree; an M.Sc. in Political Science from the University of Ibadan and a Ph.D. from the University of Bordeaux in France.
Dr. Jalloh is a devout Muslim born in the Kono district of parents who hailed from Port Loko district: a Temne mother from Kalangba, Lokomasama Chiefdom, and a Fula father from Kafu Bullom Chiefdom. Dr. Jalloh is married to Fatou Banel Jalloh.
Signed:

Brig. (Rtd.) Julius Maada Bio
Presidential Candidate of the SLPP for the 2018 Elections