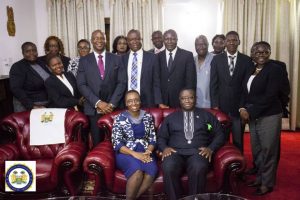 State House, Freetown, Tuesday, June 12th, 2018 – The newly appointed Attorney-General and Minister of Justice Dr. Priscilla Schwartz has today subscribed to the oath of office at State House following her appointment on Monday 11th June 2018 by His Excellency President Julius Maada Bio.
Shortly after taking the oath, Madam Schwartz thanked President Bio for appointing her into her new office. She said the new direction represents the change which she is determined to move forward. The new Minister of Justice pledged her commitment to work in accordance with the vision of President Bio.
Your Excellency, I want to use this opportunity to thank you for the trust and confidence that you have placed in me. I want to sincerely pledge that I will serve you faithfully and the new direction. I will do my best to be one of the vehicles that will move the new direction forward, she said.
On his part, President Bio congratulated the new Attorney-General on her appointment. He said the task ahead is a bit challenging and everyone must be ready to make Sierra Leone a beautiful place on earth. He noted that he cannot do it alone thus the reason he is bringing other compatriots onboard to move his administration forward.
We must use the new direction to develop this nation. It is a collective responsibility and that is the reason I am bringing you all onboard. We must make Sierra Leone the best place on earth for direct investment where contracts are honoured, an open society is created and the rule of law is maintained. As you assume office today, let me wish you the best and assure you of my utmost support, he ended.
Dr. Schwartz is a Doctor of Laws and the only woman to achieve such an academic feat so far in the country. She brings into the new office wealth of academic and professional experience both local and international. Until her appointment, she worked as a Senior Lecturer and Director of the Energy and Natural Resources Law (Masters of Laws LLM) Programme at the College of Professional Services, Royal Docks School of Business and Law in the United Kingdom (2007-2912); Queen Mary, University of London, United Kingdom (2008-2011); School of Oriental and African Studies, University of London, United Kingdom (2011-2013).
For more enquires:
State House Media and Communications Unit;+232(88)269282/+232(76)267664