Sierra Leone Journalism Loses Doyen and Icon, with passing away of Publisher, Editor of both The Tablet and Democrat Newspapers, Pious Foray. May his soul rest in peace!
By Kortor Kamara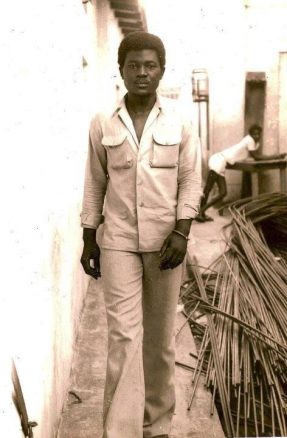 The legendary, fearless, trailblazing political journalist and entrepreneur, who became the face of opposition to the then one-party dictatorship of the APC, during the Siaka Stevens era and who continued the fight for good governance, as an iconic figure much admired in progressive circles, has today died in Ghana, while seeking medical care.
Less than a month ago, I was privileged to meet for a final time with "Masser" Pious Foray at his new offices in Freetown, during when the pictures below were taken.
I first met Brother P, as he was then fondly called, in 1980, following my release from illegal detention at Pademba Road prisons by the Siaka Stevens government.
Encouraged by uncle Jaiah C Kallon, who was then working with Pious, the late Hindolo and IB Kargbo at the Tablet Newspaper, to write about my experiences at the prisons, I submitted my first of what would later become many articles to be published in both the Tablet and subsequent Democrat newspapers by the Editor and Publisher, Pious Foray.
The Tablet's Rawdon street offices would later serve not only as a meeting point, during our visits from Mount Aureol to the watering hole, Sonny Marke, but became a source of inspiration and training for budding progressive journalists of that era.
I vividly remember the intimidation campaign and violence perpetrated against that sole beacon of hope for a genuinely democratic dispensation then, the courage exhibited by Pious, the paper's editor and publisher, and the resultant forced exile of both Pious and Hindolo to America.
Upon returning to Sierra Leone in the early 1990s, Pious continued his journalism with the Democrat Newspaper, as owner, editor, and publisher.
Stop Press! serves both as printing shop and offices of the Democrat Newspaper. Ideally located in central Freetown, it was a must visit for young and progressive political types, where all manner of political ideas and parties freely mingled without rancor, until political expediency forced its closure and relocation.
Sierra Leone, especially, principled, consistent and fearless journalism, has indeed lost an icon.
Pious, you fought the good fight and triumphed with your integrity intact.
May the Lord grant him perpetual and eternal peace and may the family, friends, and country be consoled during this time of grief.
Fare thee Brother P, Masser, till we meet again!