SHE [Jebbeh-Tu] was NOT a politician or even a political actor.
In fact, she was none of those high profile personalities who stood out in the notorious glare of our punctured times. But we celebrate her precisely for what she was rather than for what she was not.
SHE was just an ordinary everyday woman who lived her life amongst her people but beamed her voice beyond her being for all who care to listen to her beautiful lyrics.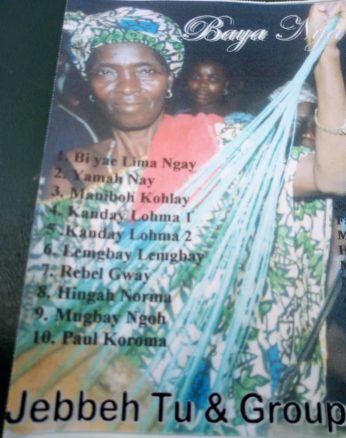 SHE cultivated the unsellable power to make us dance like a swarm of tweaking JANENIH insects streaking and sprinting on a celestial stream of absolute joy. She made us laugh out loud to drown our sorrows down in happy mouthfuls of mirthful merriment.
We accept that she didn't have a voice anywhere near as sonorous as a full-throated KOKOYIE bird calling out in fallows deep at the break of dawn; no not as remarkably slicing to the soul as that DJELIBA maestro Mama Kante chanting "Mamaya" in her Madinka tongue. But by Zeus, this JEBBEH TU lady can sing! You have to be properly acculturated in the African field to feel the heat of her special spirited beat.
Jebbeh Tu sings like a sparrow in a yarrow, streaming her voice through to the marrows of our dancing bones.
Listening to her music is like taking a thematic journey through the history of the Mendeland. Not just in the content that she presents but in the manner of presentation of her musical packages. She would capture your attention with the force of her vocal cords and take you on a mythical journey in a trance-like sway that would make you want to hear nothing else besides. She would wrap you around her little palms like the SEGULEH that keeps tugging forward in her studied grips as she sends the KONGOMI crying and the KAYLIH cracking loud under the fulsome power of her many little Seguleh beads.
JEBBEH TU is a solid legend in the Mende world. She represented a symbolic cry far beyond her own mortal voice!
She was our Beyoncé our Angelic Kidjo, our Rihanna, our Lady Gaga, our Brenda Farsi, all rolled into one plausible voice and rooted in our every dance move.
If you have not heard the likes of a Jebbeh Tu sing or seen a Mende woman/man twist to the notes of her type of magical voice then you certainly can not say anything about "the Mende people" that is worth listening to.
Not that Jebbeh lacked equals.
Indeed there are quite a few who may even be her 'betters' in the particular genre of Mende music (which flows over a vast stretch of layers from the traditional NDORGOI beats in my native Jawie Chiefdom to the accordion assimilation of the legendary SALLIA MBAKA).
The particular enviable string of Mende vocalists to which Jebbeh Tu royally belongs includes EVEN MEN like the late unconquerable KONGOMA Master, GBAKI or the still living-and-kicking-the-dust KPOSOWAI.
Certainly amongst the female singers AMIE KALLON is one such immortal artist of our own times. Before that there was ISATA NYANBAY. And before Nyanbay there were many others whose voices have now been swept aside by the merciless broom of time's unheard beats.
JEBBEH TU is a sachem of the lyrical narration. She has the unrivalled ability to bring to life important socio-tragic chapters of our national history with details that will astonish the most pedantic of modern historians. Without the use of the pen, this wonderful woman beautifies our history like no historian would dare to try.
It is due to her remarkable genius that we can still recall pivotal episodes like the killing of TEACHER KEMOKAI, a savage act that led to the DORGBORYISUI war, ravaging large swaths of Pujehun district and destabilizing the population in that district , an APC electoral machinated act which none of our long line of doctoral level historians has tried to touch to any griping degree of academic feel!
It is fair to conclude that without JEBBEH TU there would no longer be any
TEACHER KEMOKAI. That deservedly respected teacher and conscientious political activist still live because the music of Jebbeh continues to live and breath in us.
Her voice remains a standing anchor to our wavering cultural souls and those fingers now still and stiff used to swing us wild with the masterful touch of the Seiguleh strings. And that magical voice now made silent made us scream in the nightly ribaldry of a GBOJI-GOMI dance and it flung our female folks into the endearing ecstasy of a SANDEY-GOMI spin.
Jebbeh Tu's is one of those voices whose well-woven echo will forever ring in our ears and never die or fade away.
Hers is one of those encouraging voices that makes us feel we are right there in Sierra Leone when driving home from work in faraway Washington DC or having a casual stroll in London's Hyde Park, or having a community get together somewhere in Toronto or simply resting on our beds, anywhere on planet earth, quietly contemplating our next moves in this hazy stream of earthly chores.
Iconic figures, such as Jebbeh is, do not die. They would live as long as there are men and women who can hear them sing and dance to their songs with passion.
National joy-bringing stars like Jebbeh Tu is, can only REST!
So REST IN PEACE gifted woman; you came at a time when you were less appreciated than you actually deserve. And you went at a time when your voice could have played such a pivotal role in the reawakening of a nation that is poised to go back to its very roots to dig up the best in us!
You sang to give us joy.
But above that joy
you sang to give us strength!
You sang to give us hope!
You sang so that we would continue to value the best that we have to offer to the world we have!
Through inspirational pillars like your artistic self our nation will continue to learn, however gingerly, that the ladder to national development starts with the solidity of a nation's heritage; that to crush a country you start by trashing its culture and killing out its collective self-belief; that history is a weapon for domination and when a people listen to outside forces to tell them their own history and map out their future, much of what they "learn" is mere FICTION tailored to fool them; that to love ourselves we first need to understand our history and respect our cultures!
We thank God for the life you lived to make ours all the more richer and to teach our children yet unborn that we have a history worth chanting about!
May you rest in Perfect Peace!
Amen!
@ Abdulai Braima