By Elkass Sannoh
Law Courts Building, Judiciary of Sierra Leone – After a two-week break, Sierra Leone's Chief Justice, His Lordship, Justice Babatunde Edwards, has resumed work and officially opened the September 2020 Criminal Sessions on Tuesday, 15th September 2020.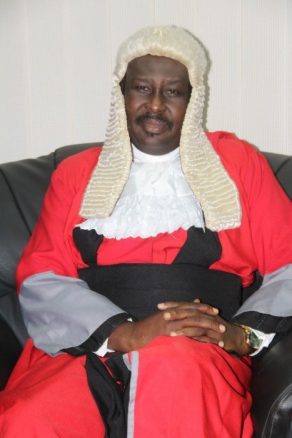 The Chief Justice presided over thirty-nine cases, marking the official commencement of this year's High Court Criminal Sessions for the 2020 Judicial calendar.
The September 2020 Criminal Sessions commenced without the usual fanfare due to the deadly coronavirus (COVID 19) outbreak.
During the session, the Legal Aid Board lawyers represented the accused persons. At the same time, the State's Counsel prosecuted the cases brought before the Court.
The cases ranged from murder, sexual penetration, Burglary; Wounding with intent; Larceny, and Robbery with aggravation, among others.
One of the accused persons, 25-year-old painter, Mohamed Musa Bangura, pleaded guilty and said his act to stab his friend, Cherinoh Barrie, was not intentional and therefore begged for mercy.
Representing the accused person, defense lawyer Cecilia Tucker told the Court that her client is a first-time offender. She said the accused did not waste the Court's precious time before taking a guilty plea. Tucker said her client showed remorse and pleaded guilty to demonstrate regret for his action.
In her response, the state counsel-Elizabeth Tity Jalloh said the accused person stabbed the victim on his right hand with a bottle. She said the victim received five stitches with other minor injuries.
Delivering his judgment on the matter, the Chief Justice sentenced Mohamed Musa Bangura to one-year imprisonment and cautioned him to desist from violence. The defense's plea and the fact that the victim and the accused were friends, aged 25 and 26, respectively, helped in the decision. "I hope you have learned a good lesson from your action," said Justice Edwards.
The Chief Justice admonished the defendant to conform to good moral behavior after spending his term at the Correctional Center.
His Lordship Justice Edwards refused bail to all murder cases, including the notorious Waterloo herbalist, Mohamed Conteh, popularly known as 'Jahanama Fire' and two others. The accused allegedly murdered three people on Tuesday, 25th February 2020, at Magbath village, in the Western Rural District of Freetown.
The sessions continue.