Earlier today, May 7, 2018, in the hallowed halls of parliament a committee for the approval of ministerial appointments grilled some Minister designates to ascertain their suitability for the recommended ministries.  Among them was the minister of foreign affairs designate, Dr. Alie Kabba.
The ministers who were lined up in front of the Appointment Committee included professor Kpakima, Professor Francis, and Ambassador Foday Yumkella.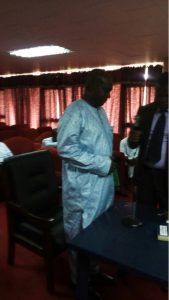 Dr. Alie Kabba, the Minister-designate for Foreign Affairs and International Corporation was also one of those who made their appearance before the Parliamentary Committee for Appointments.
Confidently adorned in a flowing African-styled "Rappel" Dr. Kabba addressed the questions posed by the honorable parliamentarians in his usual fluent and substance-filled style.
Describing himself as a "salesman" committed to selling the excellent image of the country to attract investors, Dr. Kabba answered questions ranging from economic diplomacy to climate change to fishery management.
Suffice to say that our Minister-designate flew through every question with the faultless wing of a seasoned eagle stopping at nothing and hesitating at no point.
By Abdulai Braima – a London-based Sierra Leonean Social Media  Commentator on current issues dealing with Social, Political and Cultural events as they unfold by the hour.
Click to listen to the Interview from Parliamentary Committee.