As he shows disciplined leadership…
President Bio Conducts Spot Check at Youyi Building
By State House Media and Communications Unit
State House, Freetown, Sierra Leone – His Excellency President Bio has always warned in his public speeches that this Government is not going to be business-as-usual politics and on Wednesday, 23rd May, he demonstrated that with an on-the-spot check at Youyi Building.
The Purpose of the on-the-spot check was for President to ensure that Ministers and civil servants are complying with his directive to be at work at 8:30 am. Energised and determined, President Bio climbed stairs after stairs checking every floor housing Ministries and Government agencies.
At each Ministry and Agency, President visited Ministers, Permanent Secretaries, and other civil servants. Door after door, he entered to shocking surprises from civil servants, some of whom were only seeing him for the first time in person. President Bio smiled as he thanked many of the Ministers and civil servants who were on seats.
Secretaries, clerks, security and office assistants all expressed their admiration for seeing the President in their Ministries doing a spot check on his directive. "This is the type of President this country wanted. We now have a disciplined leadership who monitors and ensures compliance with his directive. The President looks very modest talking to junior civil servants, and I am very hopeful that he will be a great President," a junior civil servant commented.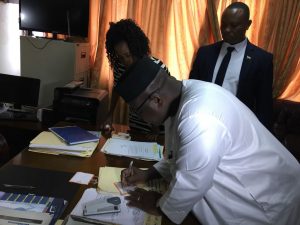 On the whole, many of the Ministers (except for those on out-of-office official duties), Permanent Secretaries and other civil servants were on seats. The Permanent Secretary at the Ministry of Lands, Housing and the Environment was not on the seat and in his office, His Excellency the President left a note that he visited his office and was not on the seat. From his visit, President Bio was also very concerned with the current state of the floors looking at the ceilings and cracks on walls.
It is also important to note that from the visit by His Excellency President Bio, compliance to the 8:30 am start was very impressive. The President will continue on his on-the-spot visits targeting many public institutions, Government agencies, and departments in the coming weeks and months ahead.
For any inquiries contact:
State House Media and Communications Unit.
Freetown
+232(88)269282; +232(76)267664