Sierra Leone's First Lady, Dr. Fatima Maada Bio, Distributes Free Sanitary Pads to School Girls in Port Loko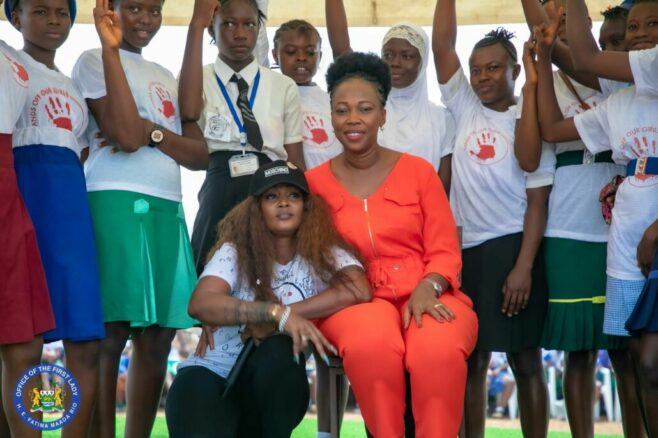 The First Lady of Sierra Leone, H.E. Dr. Fatima Maada Bio, has resumed the distribution of free quality sanitary pads to school-going female children in the northern city of Port Loko, after a short pause due to the tragic death of her female close protection officer, Kema Kanneh, in a fatal road accident on February 6th, 2023. The event on Thursday, February 23rd, 2023, was attended by hundreds of schoolgirls and notable dignitaries, including Gender and Girls Rights Activist Dr. Sylvia Olayinka Blyden, who praised the First Lady's unwavering commitment to girls' education and empowerment.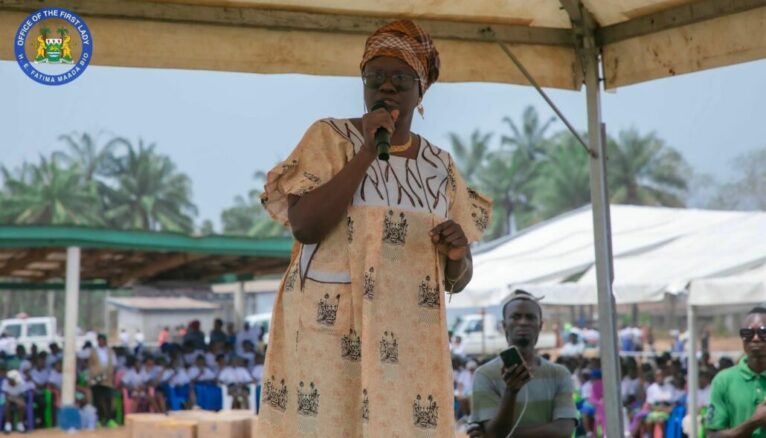 During the event, First Lady Fatima Maada Bio encouraged the girls to prioritize their education and avoid compromising their integrity or morals. She also emphasized the importance of using safe and quality sanitary pads to prevent infections and promote overall health. The Deputy Minister of Basic and Senior Secondary Education, Hon. Madam Emily Gogra, lauded the Hands Off Our Girl's Campaign and the First Lady's advocacy for girls' rights, noting that it has significantly impacted the education and empowerment of women and girls in the country.
The event ended on a high and positive note, with the First Lady showcasing how to use the sanitary pads and lecturing the schoolgirls on menstrual and reproductive health matters. The government's Radical Inclusion policy in education and the President's Free Quality Education policy have contributed to the impressive educational output of school children in the country, particularly in Port Loko, where the girls are now even beating the boys in tests and exams.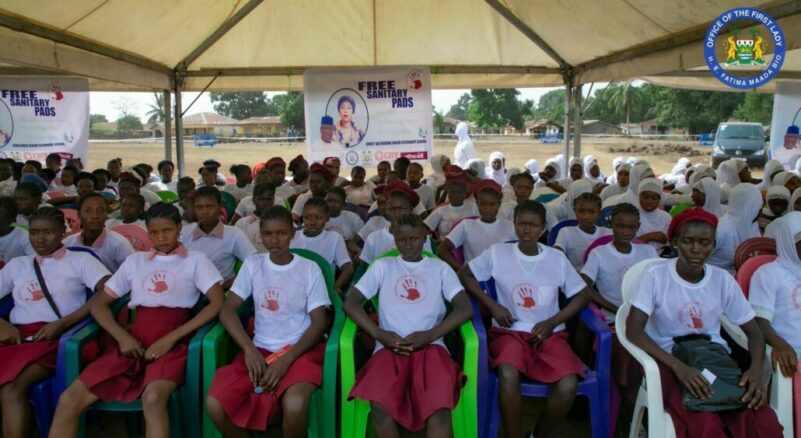 The First Lady's unwavering commitment to the protection and empowerment of women and girls has earned her widespread admiration and support. Her radical and unrelenting efforts to combat vices of sexual offenses have radically changed the narrative of women and girls in Sierra Leone. With her proximity to the President, Parliament, Chief Justice, and the entire government, she has been instrumental in pushing for stronger laws and special courts for speedy trials of sexual offenses crimes.