Alexandria, VA, January 31, 2023 – KiaMar Group is proud to announce the publication of the book "The Rebellion of KORAH" by Abu-Hassan Koroma. The book is a faith-based exploration of the biblical story of  Korah and his rebellion against Moses and Aaron, as recorded in the book of Numbers in the Bible. The publication offers a comprehensive examination of the events that took place, including the background and motivations of the rebels, their grievances and demands, the consequences of their actions, and the lasting impact of the rebellion on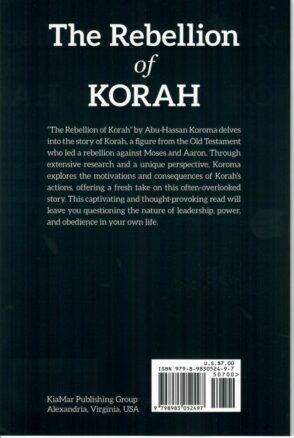 the Israelite community.
The book is divided into nine chapters that delve into the various themes and lessons that can be learned from the story of Korah's rebellion. From the dangers of challenging authority and the importance of obedience to God to the role of faith and the power of forgiveness, this book provides insights and wisdom for contemporary readers who may be facing similar challenges and struggles. The final chapter brings together the themes and lessons of the book, offering readers a deeper understanding of the events that took place thousands of years ago and their relevance today.
The Rebellion of KORAH is a nonfiction work, and any references to historical events, real people, or real places are accurate and not used fictitiously. The book is based on real individuals and events from the Bible and is a powerful and outstanding exploration of biblical history.
The publication is available in paperback with ISBN: 979-8-9850524-9-7 and Library of Congress Control Number: 2022924058. It is printed by DiggyPOD, Inc. in the United States of America. The front cover image is by Abu-Hassan Koroma Jr., and the book design is by DiggyPOD.
"The Rebellion of KORAH" can be purchased from the KiaMar Group website.
For further information, please contact Us.