SLPP Sorie Ibrahim Sesay Vowed To Clinch the Sit of District Council Chairman Ahead Of a Local Bye-Election in Falaba District
Following an official pronouncement by the National Electoral Commission (NEC) for the conduct of a local council Chairmanship bye-election in the Falaba district North East Region, the governing Sierra Leone People's Party (SLPP) has officially nominated Mr. Sorie Ibrahim Sesay as candidate for the seat of District Council Chairman Falaba district in a colourful ceremony organised by party stakeholders in Falaba Mongo Bendugu.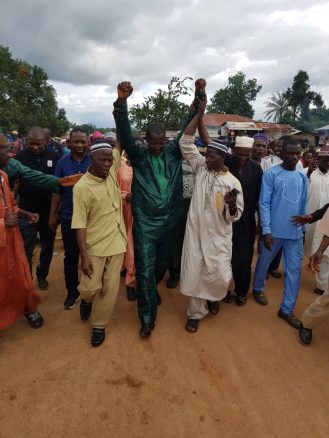 Moreover, speaking to the jubilant crowd of family members, party supporters stakeholders, local authorities present during the nomination ceremony, Mr.Sorie Ibrahim Sesay aka the people's chairman vowed to clinched the chairmanship position in the district come the 26th October 2019. respectively. "As a district, we have come a long way as this day records another mark of history as I solemnly accept the keys to the match of success and freedom on behalf of the Falaba district family.
In retrospect,this event clearly justifies the end of the era of injustice, deprivation, marginalization, and suffering" Said Sorie Ibrahim Sesay.
According to Mr.Nabieu Conteh, a party stakeholder said they are optimistic about a landslide victory as a party simply because his party candidate is a grassroots mobilizer and a skillful political strategist at the same time.
Present at the ceremony were party members and supporters, family members, local authorities, other high profile dignitaries who were also part of the occasion include elder and father of the party Koinadugu & Falaba districts Retired Brigadier General Keli Conteh, Minister of Youth Affairs Mohamed Orman Bangura and his deputy Lusine Kallon, National Women's Leader, Madam Fatmata Sawaneh, Iron lady Madam Neneh Lukullay Women's Leader, Koinadugu District,Chairman SLPP Falaba district Mr.Yaryah Wann and the district Women's Leader, Madam Finda among others.
By, Conteh Saidu and Culled from WhatsApp Media