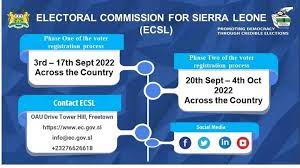 The ongoing voter registration in Sierra Leone received special praise from the SLPP Secretariat.   In a press statement, the Party secretariat notes the challenges the registration process is facing while pointing out areas that need more work to ensure the legitimacy of the voter registration process remains untainted.
Key areas of concerns include communications where the Electoral Commission did not adequately informed the voters on the phase registration, swelling the numbers of voters at stations and creating logistical nightmares for staff.
Other areas of concern include security, absorbing new registrants, identity fraud by opposition leaders and their supporters, intent on registering ineligible voters due to age limitations.  Another area of concern was the lack of appropriate preparation for Older and physically challenged voters.
Overall, the SLPP Secretariats notes the high level professionalism of the Electoral Commission while appealing for immediate redress of all concerns to ensure the credibility of the process remains intact.
You can read the Press Release SLPP STATMENT ON BIOMETRIC VOTER REGISTRATION.