Judiciary of Sierra Leone Communications Unit: Sierra Leone's Chief Justice, His Lordship Justice Desmond Babatunde Edwards, has embarked on an 'inspection tour' to assess the Courts in Kailahun, Bo, Kambia, Port Loko, Kabala, Masiaka, and Waterloo as part of his desire to modernise the Court buildings to match up with other countries in the sub-region.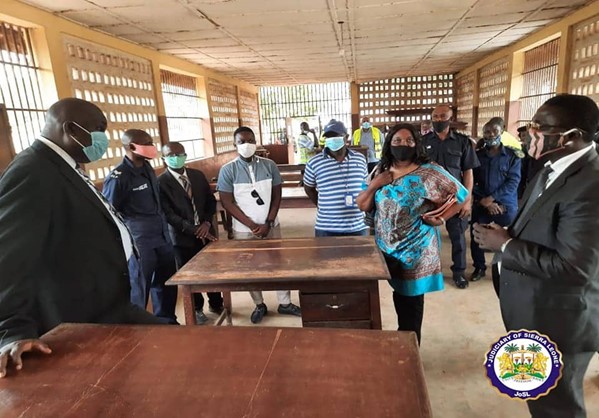 The team comprises the Court Operations Manager-Mrs. Olayinka Laggah; the Principal Accountant-Mr. Alpha Charles; Head of Communications-Mr.Elkass Sannoh; the Court Facilities and Assets Officer-Mr. James Sesay and the Engineers.
The tour, according to the Court Operations Manager-Mrs Laggah, is to inspect Judiciary facilities insofar as Court governance is concerned and to finally improve on the dilapidated buildings to properly host Resident Judges that have been posted in those places.
In his address, the Hon. Chief Justice said the dispensation of justice is not only restricted to expeditious trials. He said it also includes effective and efficient administration in a serene and decent environment for not only Magistrates, Judges, Clerks but even for lawyers and their clients.
He thanked His Excellency President Julius Maada Bio's administration for making the funds available for the Judiciary to be able to carry out its day to day activities as provided for by Law.
"In as much as I have assigned Resident Judges in places where there were no sitting Judges, I also want to ensure the Courts are in good condition," said the Hon. Chief Justice. He added that the Courts' precinct should be fenced; Registry, Judges and Magistrates' chambers well furnished.
The tour started in Kailahun town on Thursday, 14th January. On the same day, the team was received in Bo town by Justice Alfred Ganda after leaving Kailahun. In Port Loko town (Friday), the Chief Justice was received by Justice Abdul Sheriff and Magistrate Augustine Samura.
After a successful inspection, the Chief Justice proceeded to Kambia and Kabala towns. The tour ended in Koya Chiefdom where the Chief Justice and his team were received by the Regent Chief and other Chiefdom authorities. The proposed site for the construction of another Court at the Bo Highway was visited.
In Waterloo, Western Rural District where the Chief Justice received a standing ovation from the Sierra Leone Police, the team visited the Magistrate Court for a total refurbishment.
For more enquiries contact the head of Communications on +23234617548