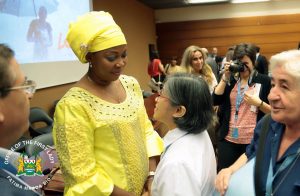 H.E. Fatima Maada Bio, First Lady of the Republic of Sierra Leone, delivered a speech today at the United Nations Headquarters at Geneva Switzerland.
The conference "Girls With No Name" is an unapologetic look on the issue of child prostitution in West Africa, using Sierra Leone as a case study.
The First Lady in her speech did not mince words and spoke objectively about the subject. She said sometimes these kids provide for their families through prostitution. It is not the responsibility of a child, but it is a social reality we face today.
As depraved as it may seem, sometimes parents introduce their kids to prostitution. Ten years of civil war and the Ebola epidemic did not help matters. Child prostitution is a taboo subject. But she as the First Lady is ready to be the voice.
Our First Lady further went on to say:
Women and Children are often the poorest and most marginalized. Many are illiterate and unskilled. Issues of sexual abuse continue to be areas of concern.

As First Lady and someone passionate about women and children, I will use my position to bring awareness to the international community about the plight of my country.

I have no budget of my own for programs that will help to better the lives of these honorable people. I am here to learn and find a solution.

I have no authority to make or pass laws. Don Bosco Fambul is an organization that is visibly helping in its little way in Sierra Leone. I have vowed to highlight the plight of our vulnerable children in my country.

I am here today, calling on everyone here present, to consider, and seriously look into Sierra Leone.
Our First Lady went on to outline the benefits of the free education Program in the fight against child prostitution. The new direction goes beyond talking about societal ills, but embarking on workable "solution based" programs.