Three Appeal Court Justices and Seven High Court Justices have today, Friday, 11th December 2020, subscribed to the oath of office before the Honourable Chief Justice, His Lordship Justice Desmond Babatunde Edwards.
In his opening address, the Hon. Chief Justice encouraged the newly appointed acting Justices to be forthright and become moral guarantors of the Law. He told the three acting Appeal's Court Justices and seven High Court Justices that the Warrant was very clear, "that you are to act as Judges."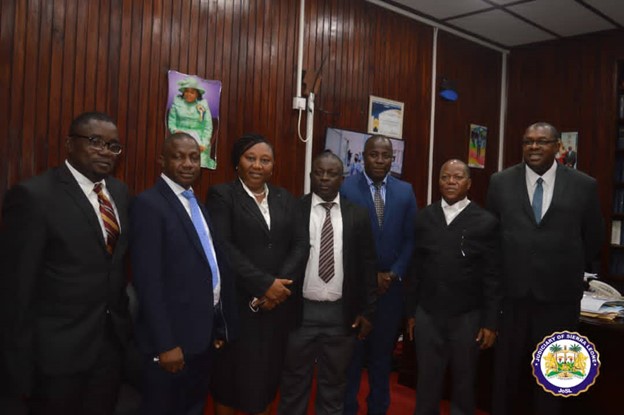 Whilst congratulating them, the Chief Justice reminded them that their job is very difficult, stressing that they are mostly not being appreciated. Amidst those challenges, he however admonished them to be dedicated.
"This is a great achievement but please do not let us down," he said, adding that the job is difficult. He was very optimistic that they will sail through those challenges to make Sierra Leone proud. The Chief Justice thanked His Excellency President, Dr. Julius Maada Bio, for reposing confidence in his leadership and for making the appointments possible.
The three acting Appeal Court Justices were Hon. Justice Tonia Barnett JA; Hon. Justice Samuel Omodele Taylor JA and Hon. Justice Michael Mami JA;
Justice Tonia Barnett JA is a Harvard Law School graduate from the United States of America. Apart from studying Law at Fourah Bay College (FBC), she also holds a Master of Law degree. In 2016, she started her internship at the Middlesex County Juvenile Court, Cambridge Massachusetts in the USA. Before her appointment as High Court Judge, Justice Barnette had served as Magistrate for twelve (12) successful years.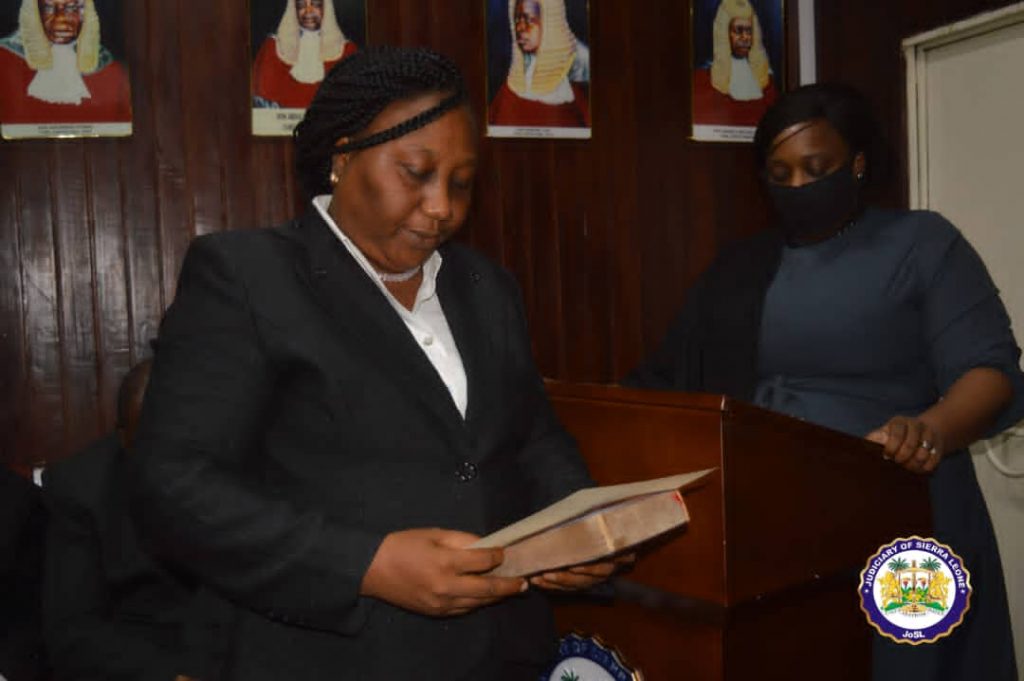 Justice SO Taylor JA attended the Prince of Wales Secondary School in Freetown before gaining admission to study Law at FBC, University of Sierra Leone. Justice Taylor first graduated with a Bachelor of Arts at FBC before pursuing his Bachelor of Laws and BL as an Utter Barrister. He was appointed High Court Judge in 2019.
Justice Mami JA started his early education at the St. Edwards Secondary School in Freetown where he sat the General Certificate Entrance Examinations and emerged as the best pupil in 1994. In September 1999, he gained admission to study Law at FBC, University of Sierra Leone. In order to acquire quality education, he later enrolled for his Master in Business Administration at the University of Sierra Leone. From 2008 to 2015, he was the head of Corporate Law at the National Social Security and Insurance Trust (NASSIT). Justice Mami became a High Court Judge in 2019.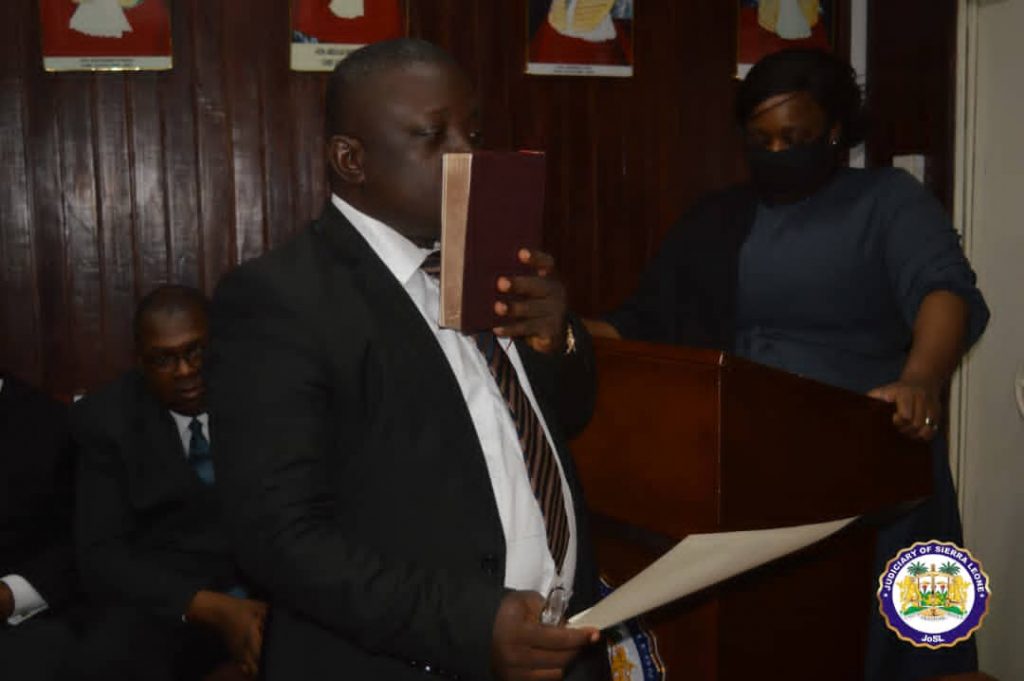 The Seven (7) acting High Court Justices were Hon. Justice Aggrey Aruna; Hon. Justice Adrian Joscelyne Fisher; Hon. Justice Francis Banks-Kamara; Hon. Justice Mohamed Bawoh; Hon. Justice Boi Hannah Bonnie; Hon. Justice Abdul Sheriff and Hon. Justice Abu Bakar Sannoh
Justice Francis Banks-Kamara J, was the acting Master and Registrar, Judiciary of Sierra Leone. He is a British trained Sierra Leonean Lawyer. He holds a Master of Law in International and Comparative Business Law from the London Guildhall University. His thirst for quality education compelled him to gain admission into the Lumumba University, Moscow former USSR where he obtained his Diploma in International Law.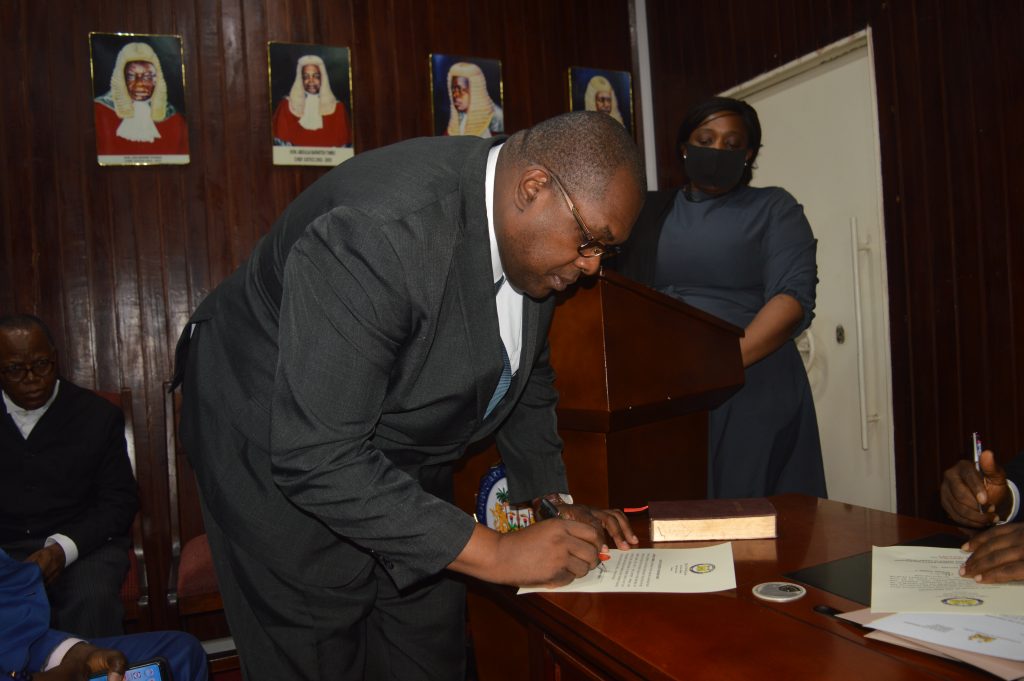 Justice Adrian Fisher J graduated with LLB Honours Degree from the University of Hertfordshire, St Albans. His insatiable desire to be multifaceted motivated him to pursue his Master of Law in E-Commerce and Telecommunications Law. He was Immigration Law Practitioner in London before his appointment as Magistrate in 2002. He was also Legal Consultant for Sierra Leone's National Public Procurement Authority from 2008 to 2011.
Justice Abdul Sheriff JA started his work experience as a field worker for Care International in 1995. He earned his BA degree in Linguistics in 2001 from Njala University. He is also a graduate from FBC, the University of Sierra Leone with LLB Honours. He was appointed Magistrate in 2012.
Justice Hannah Bonnie JA was a dedicated teacher at the Government Model Secondary School. She was also an examiner from 2003 to 2008. Justice Bonnie is a Fourah Bay College graduate with a Bachelor of Arts. She later got admitted to pursue her LLB Degree in 2003 at FBC, University of Sierra Leone. Before her appointment as a Magistrate, she was a Legal Consultant for the UNDP.
Justice Abu Bakar Sannoh JA is also a graduate from FBC. In 2004 he graduated with BA in English and Sociology. In pursuit of his dream to become a Lawyer, in 2009 he graduated again with LLB. He was called to the Bar in 2010 and later got employment as Resident Prosecutor for the Anti-Corruption Commission in the South and Eastern Region of Sierra Leone. He was the Regional Defence Counsel for the Legal Aid Board in Bombali, Tonkolili, and Koinadugu. He was also the Legal Analyst for the National Commission for Privatization.
In her congratulatory remarks, Justice Bintu Alhadi welcomed them all to the Bench and assured them "I have no doubt in their capacities." She commended the Chief Justice for appointing highly qualified Sierra Leoneans to the Bench.
For more inquiries contact the Head of Communications on info@judiciary.gov.sl or +23234617548.