By Elkass Sannoh
The newly elected Sierra Leone Bar Association (SLBA) President, Madam Michael Eddinia Swallow, was born in Freetown and started her early education at the Freetown Secondary School for Girls. In pursuit of higher education, she gained admission to study Law at Fourah Bay College, University of Sierra Leone. In 2006, she graduated with a Bachelor of Laws with Honours (LL.B. Hons.). She further enrolled at the Sierra Leone Law School in 2007 where she also graduated with the Bar Final Certificate (B.L), Utter Barrister.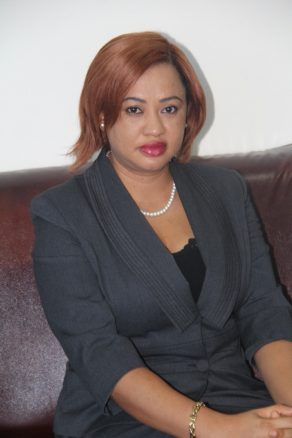 As a multifaceted person, she also acquired a Diploma in Mass Communications at Fourah Bay College.
Madam Swallow's insatiable desire for quality education compelled her to gain admission into the University of East Anglia, Norwich in United Kingdom. She holds an LLM in International Business and Commercial Law with Distinction. During that time, she studied Foundations of International Commercial Law I and II, Payments and Finance in International Trade, International Oil and Gas Law, Carriage of Goods by Sea and Marine Insurance, International Competition Law and the English Legal System.
As a resourceful team player, she started her early experience at Fourah Bay College in 2005 to 2006, as the Student's Attorney General and Minister of Justice for the Fourah Bay College Student's Union executive.
As a razor sharp litigator, she has diligently practiced for over ten successful years until she was elected in April 2019 as a member of the General Legal Council in Sierra Leone.
Before her election victory, she was appointed member of the Sierra Leone Bar Association Fund Raising Committee in 2009 to 2010. For two successful years, she got another appointment as a member of the Sierra Leone Bar Association Social and Organizing Committee. In 2017 to 2019, Madam Swallow was also appointed Secretary to the Sierra Leone Bar Association Building Committee. These impressive leadership characteristics won the hearts and minds of her colleague lawyers who overwhelmingly voted her in July 2019 to November 2020 as the Vice President of the Sierra Leone Bar Association.
She is a Life Member of the International Federation of Women Lawyers (FIDA)and a staunch member of the Legal access through Women Yearning for Equality Rights and Social Justice (L.A.W.Y.E.R.S.) since October, 2007.
The current Bar Association President has participated in many local and international research works including the World Bank's Doing Business Reports 2019: 'Training for Reform' and the Legal and Regulatory Framework of Labour Laws in Sierra Leone. As a researcher with in-depth analytical skills, she had conducted many research works including the Legal Issues Arising out of Developing Oil and Gas Reserves in Developing Countries: Sierra Leone a Case Study.
Madam Michaela Swallow is a versatile multi-tasker with over thirteen (13) years of legal practice with expertise in the following areas; Company Law, Contract Review and Analysis, Legal Drafting, Negotiation, International Commercial law, Legal Writing and Research, Oil & Gas Law, Employment law, Legal Compliance, Litigation, Administration and Management.
She has won so many local and international awards such as 2017 Lawyer of the Year Award by Nexte Awards.
The SLBA elected President is a creative thinker with attention to detail and excellent communication skills which is essential for the success of the Sierra Leone Bar Association. She was elected in Kenema on Friday, 13 November 2020 at the Albertson Hotel in Nongowa Chiefdom.