BoyTee, the former ebullient Secretary-General of the Sierra Leone People's Party in North America (SLPPNA), has passed.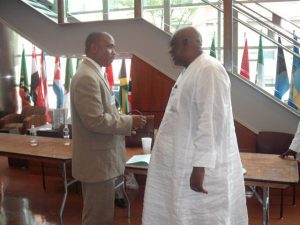 Report reaching SLPPNA states that Thomas BoyTee George died on Thursday, February 8, 2018.  Funeral and Communion Service will take place at the St. George's Cathedral, George Street, Freetown on Friday, February 23, 2018, at 2:30 PM.
BoyTee was a man of high intellect and versed in the polemics of Pan African discourse, with an impressive gift of garb.
For those who may be new on the SLPPNA scene, BoyTee single-handedly formulated the original constitutional structure that has been serving the SLPPNA since 2005.  Specifically, the idea of the Party Conference was Boytee's.
BoyTee was brilliant and knew how to drive a message home with the natural baritone that speaks with intellectual authority.
Boytee's future was not destined for America, but he stayed too long and by the time he emerged again on the streets that helped developed his Pan African views, so much had changed about Freetown.
BoyTee did serve briefly as Secretary-General of SLPPNA under Augustine Moray Fallay who initially appointed him to that position.  He will go on to defeat me at the Boston Mini-Conference during the first term visit of Chairman, John Oponjo Benjamin, and the New England Chapter leadership of Victor Mammy.
Dr. Stephen Mannah, the current SLPPNA Party Conference Chairman, nostalgically recalls, "How sad that we've lost Boy T.  Not many people worked hard to make this Region what it is today. Boy T was the architect of the first version of the NA Constitution. I remember the many battles we fought to make the SLPP truly NA that resulted in the formation of the Reform Group in Boston after the aborted peace mission with the Margao group. Those were among the most challenging times in this Region. With all this, I never saw Boy T, always in African costume, angry. He always stayed positive and always assured us that things will be okay. Thomas George was a true patriot who will forever be missed.  May his soul rest in perfect peace."
Indeed, May his soul rest in Peace.  May the Grace of God forgive his sins and, may his journey to eternity be smooth and blameless.
by Abu-Hassan "Askia" Koroma, former Regional Organizing Secretary, SLPPNA, Former Chairman, SLPP Washington Metro Chapter and 2012 SLPP Flagbearer Aspirant.