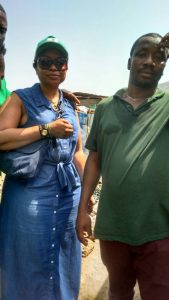 Martha Bah, the Vice Chairperson of the SLPP North America (SLPPNA), is in Sierra Leone to help the Party campaign to victory on March 7, 2018.
From North America, the Vice Chairperson, Martha Bah, took to the slums in a door-to-door campaign with the people who are the most vulnerable in our society.
These are the people who continue to suffer at the hands of our leaders as a result of bad governance. These are the people who suffer corruption, who suffer from a sick educational and health system. These are the people who go to bed on a hungry stomach.
Martha Bah saw first hand how the people toil every day to make a living. She saw for herself the devastating life these people live. They don't have toilets, no schools and, find it difficult to secure a meal a day, not to talk of three meals a day.
Their kids are dying of curable diseases.
The former aspirant for the SLPP Young Generation Leader, Mohamed Orman Bangura, accompanied Martha Bah to these locations.
The people in the Kanikay slum have pledged to support the SLPP as they believe it is the only party that has so much in their manifesto to help address the many challenges of the country.