By Joseph S. Margai in Beijing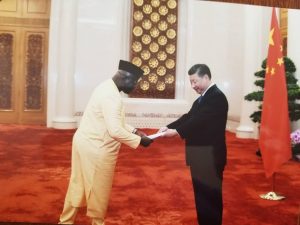 Newly appointed Ambassador to the Embassy of the Republic of Sierra Leone in China, Ernest Mbaimba Ndomahina, has expressed that he was set to unify the Sierra Leonean community in China.
Ambassador Ndomahina, who was speaking to this medium in an exclusive interview in Beijing on Monday, 10th September, said he's working on a mandate of President Bio, who is said to have underscored that every Sierra Leonean is important and, must be protected and provided with the necessary support at all times.
"I have told my staff at the embassy to provide a data of all Sierra Leoneans living in China. I want to know what they are doing and the assurance they need as foreigners to continue living in China. After collecting the data, we will be able to unify them because unity is a strength. If the host country sees us caring for each other by providing the needed support, highly regard us as a united force," he said.
Speaking during President Bio's visit to China, Head of Chancery (HOC) at the Sierra Leone embassy, Unisa Sahid Kamara, expressed grave concern over foreigners who hold Sierra Leonean passport, noting that they were committing crimes in the name of Sierra Leone.
"They are causing lots of problems for us and our Chinese counterparts have started to look at some Sierra Leoneans with suspicion. This ugly development has affected members of the business community here in China. We have a responsibility to protect ourselves as Sierra Leoneans," HOC Kamara stated.
Ambassador Ndomahina was responding to a question of how he's planning to tackle foreigners who are holding Sierra Leonean passports and using them to commit crimes in China.  The ambassador said the first step was to try and get the information about every Sierra Leonean in China and afterward they will be able to identify those ill-motivated foreigners who are smearing Sierra Leone's image in China.
"If someone claims to be a Sierra Leonean because he's a holder of Sierra Leone's passport, we will further want to know where he was born in the country, who are his/her relatives, what he/she is doing in China, among other things. We don't want our host country to see us as criminals because Sierra Leoneans are law-abiding people. No one should assassinate our character in a foreign land because he/she is carrying our passport," he said.
Ambassador Ndomahina also noted that if people in communities where Sierra Leoneans stay to see the ambassador and some embassy staff visiting their compatriots, the latter would be highly regarded and considered very important in that community.
"This is a 'New Direction' government, which means we should care for one another and show love and concern for all. In this 'New Direction,' everybody is somebody, and we should prove that we are one people and we have only one country, which is Sierra Leone," he stated.
Quizzed about his comments on Sierra Leone's bilateral relationship with China, he said it's an opportunity that the government should tap into as soon as possible.
"Our relationship has existed for 47 years now, and we should take advantage of the length of years we have spent together. The Chinese are our reliable partners," he noted.
Ambassador Ndomahina said during President Bio's meeting with his Chinese counterpart, President Xi; they extensively discussed issues beneficial to the development of Sierra Leone.
"We have a lot of things to learn from China's development strategies especially during her opening up and reform some 40 years ago. We should be eager to know how they went about developing themselves regarding agriculture and feeding a population of about 1.4 billion, and also in the areas of health, infrastructure, education, industrialization, innovation, technology, engineering, among other things."
He said Sierra Leone has a population of a little over seven million and if the government, which is so determined to transform the lives of every Sierra Leone, got first-hand experience of China's development path, nothing would be impossible to effect change in the country.
He said if something was to benefit all and sundry, let everyone benefit from it instead of one individual siphoning it, noting that President Bio was determined to ensure that every Sierra Leonean gets a fair share of the national and natural resources of the country.
Speaking on the just concluded Forum on China-Africa Cooperation (FOCAC), he said he was energized by the outcome of the 2018 Beijing FOCAC summit, and that he would tap into every available opportunity that could bring development to Sierra Leone.