President Bio, UN Secretary-General and Others Honour Kofi Atta Annan
He brought considerable renown to our country by this position and by his conduct and comportment in the global arena. Indeed, the outpouring of tributes from the world over is an accurate measure of the man, a man who gave his life to making peace where there was conflict, to defending the voiceless who were powerless, to promoting virtue where there was evil. -Akufo-Addo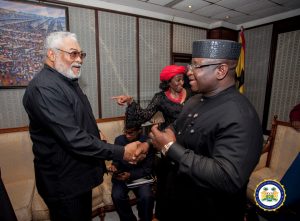 Accra, Ghana, 13th September 2018 – His Excellency President Julius Maada Bio, the United Nations Secretary-General and host of Heads of State and Government have paid their last respects to Kofi Atta Annan, the first Sub-saharan African to serve as the Secretary-General of the United Nations.
The state funeral which was held at the Accra International Conference Centre today saw the outpouring of emotions as the world remembers a man who dedicated his life to peace, gender equality, and solving the problems of the world. One of such issues that confronted the world during his tenure as UN Secretary General was the brutal civil war in Sierra Leone.
Expressing Sierra Leone's gratitude as a country, His Excellency President Julius Maada Bio reflected on Kofi Atta Annan's commitment to ending the war in Sierra Leone through the formation of the United Nations Mission in Sierra Leone and the smooth implementation of the peace process.
In his tribute on behalf of the United Nations, the current UN Secretary-General, Antonio Guterres described him: "Kofi Annan was a guiding force for good. During the tumultuous era in which he led the United Nations, he combined compassion, commitment, and diplomatic skill to bring the Organisation closer to the world's people, build the foundation of peace and give life to the values of the Charter."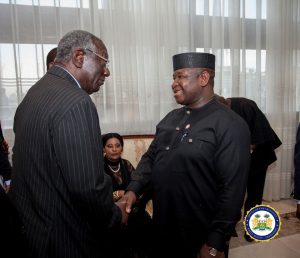 During the funeral service, Nana Addo Dankwa Akufo-Addo, the President of the Republic of Ghana, read a heartfelt eulogy. He said this about Kofi Atta Annan, the UN Secretary-General: "He brought considerable renown to our country by this position and by his conduct and comportment in the global arena. Indeed, the outpouring of tributes from the world over is an accurate measure of the man, a man who gave his life to making peace where there was conflict, to defending the voiceless who were powerless, to promoting virtue where there was evil."
Family members gave solemn tributes, including his widow, Nane Annan, and children. For Ghanaians, the state funeral was like the celebration of the life of a compatriot who made Ghana and Africa very proud. A private burial ceremony took place at the new military cemetery.
Earlier, His Excellency President Bio also had an informal chat with the current United Nations Secretary-General, Antonio Guterres, both of whom sat side-by-side at the funeral ceremony.
Other former Heads of State of Ghana, like H.E John Kufuor and H.E Jerry John Rawlings, also had significant interaction with His Excellency, President Bio.
Many other Heads of State, Governments, and dignitaries around the world also attended the funeral to pay their last respects to a diplomat, peacekeeper and peacemaker, Kofi Atta Annan.
Accompanying President Bio to the funeral, were the Speaker of Parliament, Dr. Abass Bundu, Deputy Minister of Foreign Affairs and International Cooperation, Nimatulai Bah-Chang, and Member of Parliament for Coalition for Change (Constituency 025), Hon Paul Saa Sam.