Papa Ray is popular among students at Fourah Bay College.  His popularity across the city of Freetown is indisputable as well.
The man, Raymond D'Souza George, popularly known as Papa Ray, is poised to be the next Mayor of Freetown.
Papa Ray is running as the opposition candidate of the Sierra Leone Peoples Party (SLPP).  If victorious on March 7, 2018, Papa Ray is promising to improve the status of Freetown.  That will not be an easy feat, as Freetown faces what seems like insurmountable challenges.  But, Papa Ray is determined and believes he can bring about the much-needed change that would help Freetown to bounce back to its once-respectable status as the Athens of West Africa.
Papa Ray is a lecturer in Drama and Theatre Arts in the Department of History and African Studies at FBC, University of Sierra Leone (USL).
The Challenges Of Indiscipline And Lawlessness In Freetown.
Papa Ray will be inheriting a city that is going through many challenges.  The once thriving metropolis has fallen into disrepute.  Nothing seems to work correctly in Freetown.  The city is dirty.  The teeming population seems to get out of hands.   Even the once vibrant political culture has all but dissipated. According to Papa Ray, "Freetown is no longer the lively public town that it once was and that we need collective efforts to refresh the minds of the people."
In nostalgic lamentation, Freetown has lost 'a moral conduct' because there is no respect for elders, rules, and laws as evidenced by lawlessness in the municipality."  Papa Ray singles out disorder which, he says, is very much alive in Freetown as evidenced by the way people talk and do things on the street.
Papa Ray And The Hazards Of Street Trading And What To Do About It.
The safety of commuters is at stake with the present state of street trading in the city. Even the people engaging in the street trading always expose themselves to danger. Papa Ray would like to put an end to the hazards created by street trading through education and sensitization.
"The solution to the problem is more market centers and encouragement of traders to occupy them by telling them the dangers of selling on the street. The purpose is not only to confine them but to get customers coming to them in an orderly manner and also keep the surrounding clean and quiet," he said.
Papa Ray is aware that many people make a living by engaging in street trading.  He is promising to construct market centers to accommodate more traders.
Papa Ray's Freetown will once more become a family feeling environment where everybody will think that Freetown belongs to them and that they should adequately take care of it.  "Our wastes must be properly managed in Freetown. We are currently seeing people dumping their garbage in drainages, thereby preventing the free flow of water. When it rains, all the garbage comes to the street and creates an eyesore to both citizens and foreigners. We must change this under my administration," he vowed.
Housing, Infrastructures and the Health Of City Dwellers.
The indiscriminate construction of houses is another issue that Papa Ray would like to tackle as Mayor of Freetown.  For health reasons, he is against residents building homes close to the two dumpsites at Ferry Junction on the East end of Freetown and, Kingtom on the west side.
Papa Ray is promising to change the mindset of Freetown residents not to construct houses or live very close to the two dumpsites, adding that he would employ experts to manage solid wastes deposited in those dumpsites and, transform the garbage into something useful.
Papa Ray knows that taxpayers have lost confidence in successive regimes at the FCC.  He is promising to restore confidence in the Freetown City Council while encouraging taxpayers to pay their taxes.  In response, Council will embark on massive service delivery as the need arises.
"FCC, under my leadership, would have a human face to allow the free flow of ideas that will be utilized to develop the municipality. I believe everybody should be given a chance especially if the person operates under a new administration. Taxpayers should pay their taxes to FCC if I win the 2018 election and, they will see what my administration would deliver," he promised.
Papa Ray is pledging to construct perimeter fences around all cemeteries in Freetown that are at risk of encroachment.
Papa Ray envisions a Freetown where every resident sees each other as a member of one big family for the progress of the municipality.
"I am hoping that people reconsider their current situation and not think about a particular political party but the issues that affect them. I believe I am the right person to improve Freetown for all of us," he said.
Papa Ray – Husband, Father, Civil Servant, Professor, Actor, And Freetonian!
Papa Ray was born in 1947 at Brookfields and raised at Sanders Street in Freetown.  Having left secondary school in the 1960s and worked at the Ministry of Education as a temporary clerical assistant for his first monthly salary of thirty-four Leones, D'Souza George used that amount to pay his first-year university fees.
Upon graduation from university, Papa Ray taught at the Muslim Brotherhood for a year before leaving for the civil service as an administrative officer, where he served for ten (10) years.
Papa Ray later got a scholarship to study drama at Leeds University in the United Kingdom, where he obtained a Masters degree in Drama and Theatre Arts.  Upon his return to Sierra Leone, Papa Ray went again to the civil service before going on secondment to FBC in 1985, where he has been ever since.
Papa Ray has represented Sierra Leone as an actor at the Second World Black Festival of Arts and Culture in Nigeria where one of his works "Borbor Lef" was fortunate to be selected for performance at the London International Festival of Theatre.
He later went to Canada to produce one of his works written on the experience of Shengbe Pieh, "The broken handcuff" at the Canadian Fringe Theatre Festival in 1994.
Papa Ray has represented Sierra Leone as one of the judges who decided the winner for the Lyrics of the ECOWAS anthem in Abuja. He was subsequently appointed a resident director for Kalamazoo College, which appointment led to the exchange of students from the college and FBC.
"The most important thing in my work of life is interacting with the young people because I see our future in them. Therefore, I have made it my responsibility not just to teach them but counsel them always, and that has given me the greatest joy in my life," he said.
The SLPP FCC Mayoral candidate got married in 1977 to one of Sierra Leone's outstanding athletes, Millicent Jackson, and have three children who now live in the United States of America, Ghana, and Sierra Leone.
 A Mantra For All Sierra Leoneans – One Country; One People.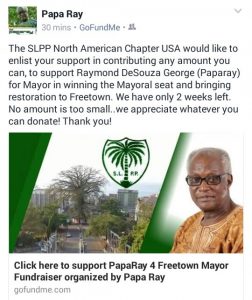 CLICK HERE TO DONATE TO PAPA RAY'S CAMPAIGN
Papa Rays motivation to run under the banner of the SLPP is the Party's motto of "One Country; One People, which speaks about unity and embraces a peaceful, progressive, dynamic and better country for all."
Editors Note – This story, first published in the Sierra Leone Concord Times under the caption, "SLPP Mayoral Aspirant Vows to Transform Freetown"  is being reproduced here with minor editing to promote the former Aspirant now a bonafide candidate.  You can read the original story here.  Click the link to read the story.