Freetown, 20 August 2018: Over 1.5 million school children are expected to benefit from the Free Quality School Education initiative at the start of the school year September. This flagship initiative, launched today as part of the new Government's initiative under the leadership of HE President Julius Maada Bio, will ensure increased access to government-assisted schools for all children from pre-primary to senior secondary levels across the country.
With support from donor partners including UK Aid, World Bank, Irish Aid, World Food Programme and UNICEF, this initiative will be phased over five years, and will waive the payment of tuition and admission fees and provision of teaching and learning materials with an initial emphasis on English language and Mathematics textbooks to all secondary schools in the country. It will also ensure that payment for public examination fees such as the National Primary School Examination (NPSE), Basic Education Certificate Examination (BECE) and West Africa Senior Secondary School Examination (WASSCE) are waived.
"The waiver of fees for learning in any form will ease the burden on parents and guardians who are making a lot of sacrifices under tough economic conditions to see their children become educated," said Hon Alpha Timbo, Minister of Basic and Senior Secondary Education." This initiative by our Government will no doubt increase educational outcomes, and human resource capital will be strengthened to meet the growing social and technological revolution in a globalized world."
Parents are being encouraged to provide uniforms and some textbooks for a start and continue with their traditional role of home supervision, support and coaching to ensure they take maximum advantage of this opportunity.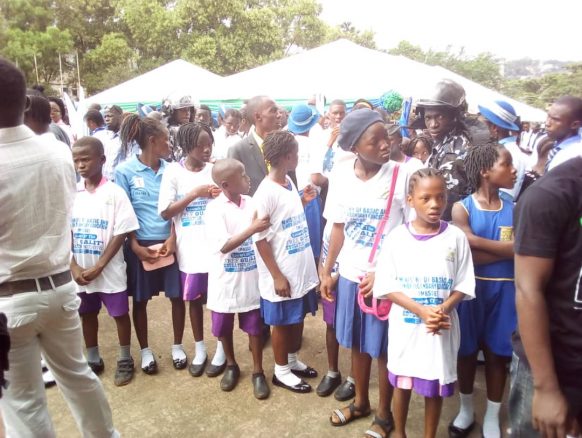 We are proud to be supporting the Government of Sierra Leone on this initiative,' said Mary Hunt, Head of Office at DFID Sierra Leone. 'I am pleased to see the priority the Government is giving to ensuring all children – girls, boys, those with disabilities – throughout the country access quality education."
A hotline (#4060 from any local network), is being set up to encourage pupils, parents and community stakeholders to report malpractices in schools and communities. The District Deputy Directors of Education, Ward Education Committees, and paramount chiefs will also conduct rigorous monitoring in their localities.
"This is a laudable initiative by the Government of Sierra Leone and the commitment shown in increasing education budget from 12 to 21 percent, will significantly increase access, improve quality and school completion in the coming years," said Dr. Hamid El-Bashir, UNICEF Representative in Sierra Leone. "UNICEF will continue to partner with the Ministry of Education and other stakeholders to ensure that this initiative yields the best results for children of Sierra Leone."
As children return to school in September, it seems a brighter future awaits them.
UNICEF, Sierra Leone.
Read, the FULL TEXT of President Bio's Speech HERE!
Launching of the Free Education